Battle of Gettysburg Map
To understand the battle and movement of soldiers, you must look at a large battle of Gettysburg map.
Because the town was, and still is, a hub with about a dozen roads running through it, as can be seen on a Gettysburg battlefield map, it became the central location between two Civil War armies quite by accident.
Neither side wanted to fight there, but that's where they ended up, as each Gettysburg battle map shows.
Each Gettysburg battlefield map image below was taken from the National Archives. They're also available through the Library of Congress if you want to do your own research online. They were made in 1876 and show the battle of Gettysburg in detail.
I have cropped the photos to make the files smaller so they would fit. I also labeled them for easy reference. The Union positions are in blue and the Confederate positions are in red.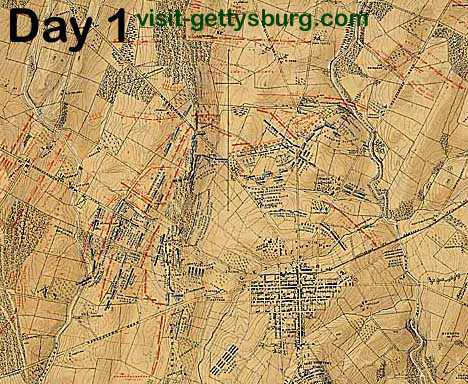 For day 1, you can see how the battle lines are to the northwest of town on Seminary Ridge. The center of the town of Gettysburg is a square. Day 1 ended with the Union troops fleeing through town.
On day 2, the battle at Gettysburg moved south of town. The Union army started in front of the heights of Cemetery Ridge but was pushed back by the Confederate assault, which began at the southern part of the ridge. The Union line took the shape of a fishhook with the Round Tops as the eye and the hook extending to the northeast.
By day 3, the Union forces were firmly mounted on Cemetery Ridge, and you can really see the fishhook shape. The Confederates concentrated at the center for the attack known as Pickett's Charge.
Please visit the battle timeline to gain a better understanding about the battle of Gettysburg map and to learn more Civil War facts.
You can also look at some modern maps of Gettysburg to plan your travel. They list road names in detail.
Facebook Comments
Have your say about what you just read! Leave me a comment in the box below.