Sunset Ice Cream Parlor
For a cool treat on a hot day in Gettysburg, nothing beats the Sunset Ice Cream parlor. I've been getting ice cream there for several years.
They have over 30 flavors, including Sunset Delight which is orange ice cream with bits of pineapple and cherry.
They have a variety of special sundaes, too. The Yankee Hurrah is coffee ice cream with hot fudge, malt, and peanuts.
Or there's the Rebel Yell made of vanilla and chocolate ice cream with chocolate syrup, peanut butter, and malt.
If you just want a drink, they have old fashioned cola with squirts of cherry, vanilla, or strawberry flavoring.
You can also get the flavors in plain soda water, an old soda fountain drink known as a phosphate.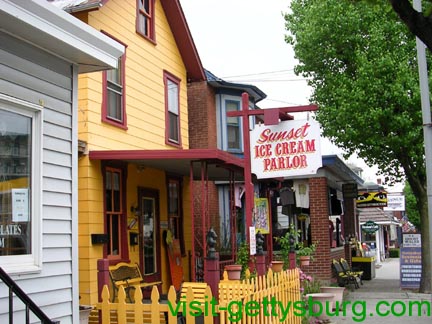 Sunset Ice Cream has indoor and outdoor seating. It's just a little shop that blends into all of the others on Steinwehr Ave., so most people don't know about it.
The ice cream is available in cone, cup, pint, quart, or half gallon sizes so you can take some home with you! I advise that you do if there's a flavor you are especially fond of because some are seasonal.
You can use this map to find the place, my favorite spot to visit on a hot day. Please share a review of your favorite place to eat!
Facebook Comments
Have your say about what you just read! Leave me a comment in the box below.